Your Passion Is Your Ignition To Life!

---

Is Your Passion shining through and keeping your inner flame alive and burning?
Well, I Was Missing My Passion Terribly ---

For years after I no longer have the restaurant business, I find myself missing the joy and fun of running my Thai restaurant and the close friendly connection I had with our regular customers who had become close friends. I mean, we could talk about food and wine for hours till way past closing time and my wife and I were welcomed into their homes with open arms -- (understand this - they were our paying customers) -- I believe this is the result of us sharing in something as beautiful and simple as passion.
I started wondering - "how I can reconnect and share my knowledge with people who share my passion?" That was when I was guided to this brilliant resource center. Suddenly, it makes sense ...
The Internet!
I mean, how else can I reach people on a global scale to share my passion? For a while now, I have enjoyed going into websites to see the exchange of viewpoints, the likes, the dislikes, the agreements and the disagreements but more importantly the topic of discussion is always around their passion. I see now that I can do the same. Afterall, all it takes is a little bit of passion to ignite that flame and like magic; you will see the profitable results.
Are you wondering if I am a 'tech-savvy' kind of guy? Lol -- it will be funny it you do -- because I am absolutely hopeless at anything to do with technology! So, did I build this site all by myself? Luckily for you - No -- because if I did, this site will absolutely not be in existence today. What I do have is lots of help and believe me you can have a "do it for me solution" too....
Do you find yourself dreading going to work and wishing you can start a home business? Well, find your passion! Dig and find out what it is exactly that you can do for hours and hours and still be excited about it. When we plan a holiday - whilst the others plan where to go and what activities to do, I would be planning on the menu - what sauces to bring and what to cook. Believe me, I am well known for bringing bottles and bottles of sauces overseas in case I cannot find them there -- (I know -- I am crazy, right?) that is how passionate I am about cooking.

Maybe you just want someone to start the ball rolling for you - I know how hard it is to get my project started as I am always procrastinating because I think it will be too hard - now that I have started it, I am thinkin -- "if only I have started sooner, I would have so much fun so much sooner". Maybe you are tech savvy but just do not have the time to do it yourself? Well, let me tell you, sitesell services can be there help!

So .. What Is Your Passion?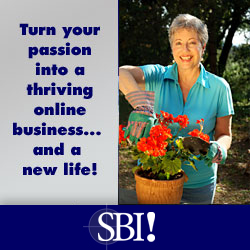 Click the above picture to find out more ...
Do you have a hobby, experience or interests that you are as passionate about as I am in mine? Why not learn to turn that deep interest and enthusiasm and knowledge into a revenue generating business? I believe very strongly that "with passion, everything else will follow" - do you believe that too?
Have A Question?
However, there is nothing worse than getting into something when you have doubts. I encourage you to question, question, question as these are the experts who will do their absolute BEST to get your questions answered. I know I did!
Guarantee!
The 90 day money back satisfaction and success guarantee turns your purchase into a risk-free trial, so for less than $1 a day (heck, you pay more than that for a cup of coffee), ignite that passion flame and get that light glowing in you again!